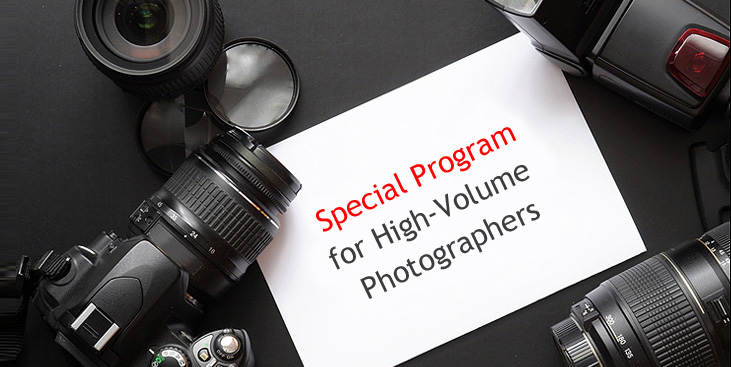 Special Program for Contributors with Large Portfolios
Depositphotos offers individualized collaborative terms for those contributors who have a large portfolio and would like to upload it to our site.
If you are a skilled and talented contributor working with different stock agencies, and you have a large portfolio ready to upload to our site but no time to spare, we are always ready to assist you.
All you have to do is contact our manager via e-mail: manager@depositphotos.com . Give us a little information about yourself and include a link to your portfolio. We'll get back to you, and discuss the best process for uploading your files to our site. We'll do our best to streamline this process to minimize your time and effort.
Our offer:
1
We are always happy to help you
upload large numbers of files for sale:
If your files have attached IPTC information (name, description and keywords), you can upload them in one large batch to a special FTP folder created by our manager especially for you. Our employees will assign appropriate categories to files and send them for sale.
If there are people in your files, you'll need to upload model releases, too. This is just as easy. Say you have a set of files with two models. Gather together all the files featuring these models, and put them into one folder, along with a scanned signed copy of a model release from each model. Then simply upload this folder to the special FTP we specify: it's as easy as that. That's all you have to do: the rest will be done by our employees!
2
Higher positions in search results
and special status of VIP contributors at Depositphotos:
All contributors with large and high-quality portfolios automatically get VIP author status at Depositphotos, including top priority with image inspectors and higher positions in the site search results.
3
Possible participation
in the Contributor Promotion Program:
Top contributors with large and high-quality portfolios who enjoy a popular following among buyers may be invited to participate in the Contributor Promotion Program .
Hi! My name is Joshua. I am a big stock photographer from England. My portfolio has more than 8k images and I want to be one of your High-Volume VIP photographers.
Hi Joshua! Okay, no problem. We are glad to help you, and welcome to the Depositphotos team!